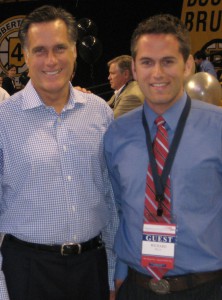 I didn't just vote for Mitt Romney in 2008, I donated to his campaign, asked others to donate, and volunteered at phone banks, fundraising events, the national call day in Boston, and at the Nevada caucuses. I've met him several times. I drank the Romney root beer (someone actually made some) and I have a Mitt Romney bobblehead. I even dressed up as Mitt Romney for Halloween 2007.
Mitt strikes me as exceptionally bright and a truly good man. We could certainly do worse than to have Mitt Romney as our president. And despite what we sometimes hear, I think I'd rather enjoy getting (root) beers with Mitt Romney. I found him to be plenty personable and warm.
However, I'd like to explain how I came to support Dr. Ron Paul. It's been a really satisfying journey, and I'm far more enthusiastic about my candidate now.
In 2008
In retrospect, I didn't have strong reasons for supporting Mitt Romney. I usually said something like, "Well, he's a very successful businessman and has an incredible resume of turning around failed companies." To be fair, his resume is far better than most candidates'. But I couldn't say much more than that.
My response to many political issues was "it depends on the situation." That's what Mitt Romney often says, and that's what most politicians say (I'll consult the generals on the ground, I'll gather together the experts, I'll pull in my czars, etc.)
It doesn't have to be this way. I came to learn that we can be guided by consistent political principles. The common thread in these principles is liberty.
From 2008 to 2012
Over the last 4 years, I studied a lot.
I read Ron Paul's Revolution and End the Fed.
I re-read the Constitution for the first time in years.
I read George Washington's farewell address.
I read Murray Rothbard, Peter Schiff, Ayn Rand, and Reason Magazine.
I listened to the CATO Daily Podcast.
I watched YouTube videos from Judge Napolitano, John Stossel, Tom Woods, and LearnLiberty.
Scales seemed to fall from my eyes. The principles I learned were coherent and satisfying. A bunch of topics "clicked" for me: macroeconomics, monetary policy, business cycles, political influence and lobbying, civil liberties, war, and foreign policy. Not that I know a lot, but these all make much more sense to me now.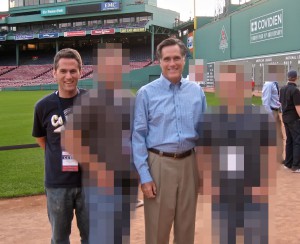 I came to discover that liberty is a unifying principle. We can agree to live in a free society without having to agree on anything else. A free society is one that protects life, liberty, and property. The purpose of liberty is to allow us to develop "virtue and excellence". Heaven to me is to live with family and friends in a state of complete autonomy as virtuous individuals, living correct principles because we want to.
A Few Observations
The two parties are isomorphic
Our two parties are philosophically isomorphic, meaning having the same "shape". (It's a large shape!) Both parties say, "I believe in letting you keep some of your liberty, but I can't let you have liberty in areas that go against my morals." A Democrat might say this about policies meant to stop poverty. A Republican might say this about policies meant to stop drug use. The problem isn't in the intentions — both sides mean well — but in the use of coercion to attempt to bring about the desired results. You may have noticed that our "war on poverty" hasn't eradicated poverty and our "war on drugs" hasn't eradicated drug use (far from it.) We spend so much energy debating these differences, and the policies don't even work! The better path is for individuals to learn and live correct principles, learning for themselves to take care of the poor and to avoid drugs for intrinsic reasons.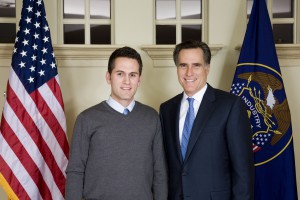 And that's just the philosophy. In practice, the two parties aren't just isomorphic, they're nearly identical. Both parties break their own principles and are becoming increasingly like each other. For example, the Republican party is said to be the party of free markets and no social programs (anti-Solyndra and anti-Obamacare), but Bush signed the TARP bailout and the Medicare prescription drug benefit. The Democratic party is said to be the anti-war, pro-civil liberties party (anti-Iraq war and anti-Guantanamo), but Obama hasn't closed Guantanamo, initiated a new war in Libya, and signed the NDAA bill that allows indefinite detention of Americans with no trial. Notice that neither party follows its own principles and both parties are very similar. (Can you name something you dislike about Bush or Obama that the other didn't do?) Both are increasingly statist (in favor of a growing state).
Liberty is a set of the best principles from both parties (what they say not what they do), and would mean the reversal of the large, near-identical parties we now have. Ron Paul has consistently taught this liberty message for 30 years.
Video: The two parties are "two wings of the same bird of prey".
Video: "It appears people now recognize that Obama is a 3rd term for Bush"
Video: Romney, Gingrich, and Santorum are all the same
The problem with a powerful, messianic presidency
Both parties have a similar attitude toward the presidency, seeming to say, "If I can just get my candidate into the presidency, all our problems will be solved." The Democrats said "Obama will bring Change and Hope." Republicans say "Mitt will bring a Bain-style Turnaround." The president is ascribed an almost messiah-like quality.
If we think our president will solve our problems, we'll give him any amount of power. Later, when the presidency changes hands, the power accumulates, and the presidency becomes more and more powerful over time. The Founders didn't intend for the presidency to be powerful. It's not correct to think of the president as the CEO of the country; he's not supposed to "run" the country. We simply need a government that will protect principles of liberty, and then we can live our lives and solve our problems.
Ron Paul says "I'm not running for President because of the things I want to do, I'm running because of the things I don't want to do. I don't want to run your life, I don't want to run the economy, and I don't want to run the world." Source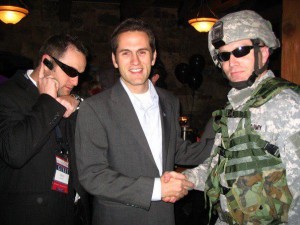 Instead of an attitude of "our president will save us," we should change our own attitudes toward the proper role of government. We should be leery of the mindset that fixing our country is about finding the right candidate, not about making changes in ourselves. The concept of liberty requires you to make some changes in your own mindset: I won't fear terror. I won't expect something for nothing. I don't need government to enforce everything I believe. I'll work. I'll be self-sufficient. I'll take care of my family and the poor around me. The change needs to happen in us.
Ron Paul and Mitt Romney Are Not the Same
The Republican party of today has drifted from traditional conservatism — free markets, small government, and the Constitution. I wouldn't have believed this in 2008, but unfortunately Mitt Romney is more typical of today's drifted Republican party, while Ron Paul is more typical of traditional conservatism. In fact, this is where Ron Paul shines; he has consistently advocated the principles of traditional conservatism. Here are a few issues on which Mitt Romney sides with today's Republican party and on which Ron Paul sides with traditional conservatism and liberty:
Monetary Policy and the Federal Reserve
It's hard to find an economist who thinks price-fixing is a good idea, and conservatives are against central economic planning. However, our interest rate (the price of money over time) is centrally planned and fixed by our central bank, the Federal Reserve (also called "the Fed"). This means that the price of money, which is half of every financial transaction, is centrally planned. If you believe in free markets, you should take issue with this!
The temptation is strong for government to lower interest rates too far, print too much money, and use it to pay for large programs. No matter what political side you're on, the devaluing of our currency via the Fed is probably being used to pay for programs you disagree with (domestic social programs or war or foreign aid, etc.) Without the Fed, the U.S. government could only spend what it could borrow or tax, like a state or city government, so we'd have to have some serious conversations about what we really want from government. With the Fed, we've been able to postpone that conversation, and it comes at the expense of savers (disproportionately elderly) and the low- and middle-income.
Ron Paul is the only candidate even talking about The Fed. Ron Paul's book End the Fed was one of the most eye-opening books I've read in the last few years.
I know you'll be tempted to think, "Mitt's a smart guy; if he's not worrying about this, it must not be a problem." Fight that temptation.
Video: Tom Woods on inflation, deflation, and money
Documentary: Money, Banking and the Federal Reserve
Lecture: U.S. Monetary Policy in 2012
Capitalism / Bailouts
Republicans rightly defend capitalism. However, without a correct understanding of capitalism, there's a growing tension between populist movements like Occupy Wall Street, some of whom mistakenly think capitalism is to blame, and Republicans, some of whom think their opposition to OWS is the defense of pure capitalism.
The liberty message makes a distinction between capitalism (free markets) and corporatism (certain businesses being favored by government.) Corporatism is also called crony capitalism.
Much of what Occupy Wall Street considers wrong about capitalism is actually instances of corporatism — large banks or defense contractors or auto manufacturers receiving special contracts or bailouts or favors from government. In pure capitalism, you can't get rich without selling something that someone wants. In corporatism, you can get rich by receiving a bailout or contract from government.
Ron Paul is the only candidate I see making the distinction between capitalism and corporatism. Mitt Romney, like most politicians, says he is in favor of capitalism, but has occasionally disregarded his own principles and favored corporatism including bailouts for large companies.
Video: Top 3 Common Myths about Capitalism
Video: Makers vs. Takers at Occupy Wall Street
The Sixth Amendment
On Dec 31, 2011, President Obama signed a bill allowing the indefinite detention of American citizens. This contradicted the 6th Amendment, "the right to a speedy and public trial, by an impartial jury." The ACLU said, "We are extremely disappointed that President Obama signed this bill…." The president said he had "reservations" but signed it anyway. This seems to contradict who Democrats thought their president would be.
Mitt Romney said he would have signed the same bill. Romney said "Obama won't abuse it, I won't abuse it, and we simply need to elect presidents that won't abuse it." If you follow that logic, then we could safely grant ALL power to the presidency and then simply elect presidents who won't abuse it. In my mind, that's not how the 6th Amendment works.
Ron Paul, who introduced a bill to repeal the above bill, falls on the side of Thomas Jefferson, who said, "I consider trial by jury as the only anchor ever yet imagined by man, by which a government can be held to the principles of its constitution."
Foreign Policy / Foreign Aid / War
Ron Paul's foreign policy is to trade with all, maintain diplomatic relations with all, and give no foreign aid to any. Sometimes he's called an "isolationist". Mitt Romney's foreign policy, on the other hand, is like all the other candidates', designating some countries as special friends and others as enemies.
The foreign policy George Washington outlines in his farewell address more fully agrees with Ron Paul.
"The nation which indulges towards another a habitual hatred or a habitual fondness is in some degree a slave. It is a slave to its animosity or to its affection, either of which is sufficient to lead it astray from its duty and its interest.

"So likewise, a passionate attachment of one nation for another produces a variety of evils. Sympathy for the favorite nation, facilitating the illusion of an imaginary common interest in cases where no real common interest exists, and infusing into one the enmities of the other, betrays the former into a participation in the quarrels and wars of the latter without adequate inducement or justification."
Again, fight the temptation to say within yourself, "Things have changed; the world is a different place." Ask yourself, if these are true principles, should we not live by principles?
Ron Paul's policy is that wars should be declared by Congress, started, fought, and ended, and that we should go to war when there is imminent danger, not as a preventative measure. Mitt has shown a propensity to side with most politicians (from both parties) in favor of pre-emptive wars and nation building. Ron Paul makes the distinction between defense spending and military spending, the implication being that much of our current military spending doesn't contribute to our defense and may actually endanger us.
Here, the troops are on the side of Ron Paul: active-duty military donate more to Ron Paul's campaign than to all other Republican campaigns combined.
Text: George Washington's farewell address
Video: Tom Woods on changing his mind on Ron Paul's foreign policy
Video: You Like Ron Paul, Except on Foreign Policy
Video: Tribute to our Troops
Video: CIA Chief Endorses Ron Paul
Video: 10 years of foreign policy predictions by Ron Paul
Video: Ron Paul's "What If" speech
Video: The Golden Rule applied to foreign policy
Opinion: Which GOP candidate would the Founders support?
FAQ / Objections
But Ron Paul is too far left / too far right

The modern left and modern right offer a false dichotomy; they're actually very similar. Ron Paul offers something actually different.

But I'm a moderate

The liberty message includes the best principles of both the left and the right. (Too often, moderatism or bipartisanship is simply agreeing to give up your principles mutually and leads to the large, homogeneous parties I mentioned above.)

But I'm a liberal

The liberty message has several positions that should appeal to liberals: pro-peace, anti-war, pro-civil liberties, anti-drug war, anti-bailout, anti-cronyism. In fact, in all of these listed issues, Ron Paul is a stronger candidate than even President Obama, who has gone against these principles he said he supported.

But I'm part of the 99% / Occupy Wall Street

See my section above about capitalism and corporatism.

But I'm apathetic

Perhaps you're sick of politics because it seems like nothing ever changes. See my section above about the two parties being the same. The liberty message is real change.

But Ron Paul is unelectable

Did you know that only Ron Paul and Mitt Romney are on all states' ballots? Gingrich and Santorum are not. In head-to-head polling against Obama, Mitt Romney and Ron Paul are in a statistical tie. Gingrich and Santorum trail by 10-12 points.

But Mitt Romney is articulate and looks presidential

I don't dispute this. Ron Paul has even said he wishes he were better able to deliver his message. However, if Mitt Romney and Ron Paul are in a statistical tie against Obama, and Mitt's outward appearance is so much better than Ron Paul's, what does that say about the message?

But Ron Paul is too radical

Compared to whom? Ron Paul is indeed very different from other GOP candidates, but he's very similar to the Founding Fathers. The Founding Father might have considered Romney, Gingritch, and Santorum radically different from how they envisioned government.

But Ron Paul is an isolationist

Are you sure? Which candidate is in favor of trade with all nations? Which candidate, on the other hand, is in favor of "preventative" wars and economic sanctions?

But Ron Paul will never get Congressional support for his policies

Ron Paul's message is about changing opinions about the role of government. For example, he wants to eliminate the income tax. I've never heard him say that he wants to eliminate it immediately and plunge us into more debt. He wants the people to have different expectations about government so they no longer want the programs that require an income tax.

But Ron Paul wants to eliminate the Department of Education, Department of Commerce, etc.

The liberty message requires a new mindset that separates wanting some objective from requiring that a federal agency provide it. Eliminating the above departments doesn't mean actual education or actual commerce would disappear. (There's no Department of Happiness, no Department of Optimism, no Department of Entrepreneurship, etc.. We don't need a department for every worthwhile cause.)

But life with a President Ron Paul would be a wild, godless, anarchy

The proper role of government is to protect life, liberty, and property. Ron Paul says the purpose of liberty is to allow us to pursue "virtue and excellence". Law doesn't produce virtue; that must come from inside of us, by our learning and living correct principles. We won't legislate our way to an ideal world; we'll get there by learning and teaching correct principles.

But I'm in favor of Buddy Roemer / Larry Lessig / Campaign Finance Reform

It's noble to seek to remove the influence of money in politics, but campaign finance reform is like plugging holes in a bucket; if money wants to talk, it will find a way to talk. This isn't the root of the problem. The larger government gets, the more reason there is to lobby for favors. The smaller government gets, the less reason there is to lobby for favors. In my mind, all Buddy Roemer supporters could live in their ideal world by joining the liberty movement and voting for Ron Paul. Ron Paul is already running a campaign free of large corporate donations because the liberty message doesn't accept corporatism. (Buddy's other large issue, banking reform, is also solved by restoring capitalism, not corporatism, to the banking sector.)
A Word to my Mormon Friends
I happen to be a member of The Church of Jesus Christ of Latter-day Saints (a "Mormon"), the same faith to which Mitt Romney belongs.
To me, the teachings of the Church allow for the liberty positions I've outlined above.
Several scriptures and quotations from Church leaders speak to the importance of agency — the freedom to choose. These seem to imply that free exercise of conscience is a virtue worth granting to everyone, even if they do things with which we disagree.
"Every man may act according to the moral agency which I have given unto him" (D&C 101:78)
"We believe that no government can exist in peace, except such laws are framed and held inviolate as will secure to each individual the free exercise of conscience, the right and control of property, and the protection of life." (D&C 134:2
"A man may act as his conscience dictates so long as he does not infringe upon the rights of others." (David O. McKay)
We are also taught, "Principles compatible with the gospel are found in the platforms of all major political parties." Despite hearing this repeatedly, in the past I was often too quick to think of my party as having all the truths and the other party as having none of the truths. The cable news shows frame the parties this way, in absolute terms. However, if it's true that "principles compatible with the gospel are found in…all major political parties", which of the other party's principles do you accept? Once I started looking through a lens of liberty, I was able to easily see true principles in both parties (in what they say, not in what they do.)
Video: 1. Our problems come from the breakdown of the family and our own values, 2. Government is a reflection of the people, 3. The purpose of liberty is to allow the pursuit of "virtue and excellence".
Video: Christ is a God of peace
Video: Is libertarianism compatible with Mormonism?
Audio: Is libertarianism compatible with Mormonism?
Update 05/26/2014: I removed a portion of the section to "my Mormon friends" to leave behind the stronger portion.