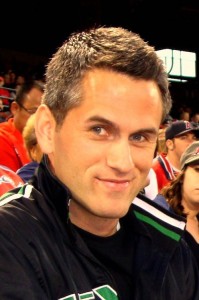 I'm a partner at User Agent.
I was the chief technology officer at Mocavo.com, a venture-backed and exited family history company in Boulder, CO. I previously worked at FamilyLink.com, where we developed a top-5 Facebook application ("We're Related"), and More Good Foundation. Areas of expertise include software development in PHP and Ruby on Rails, system operations and DevOps culture, web performance tuning, and development process improvement.
I've been quoted or mentioned on Wired.com, InformationWeek.com, Lifehacker.com, Entrepreneur.com, Seth Godin's blog, and Smashing Magazine. I write occasionally about politics, technology, and religion. I developed a popular WordPress plugin called What Would Seth Godin Do.
I grew up in Las Vegas. I began computer programming at age 12 when my grandfather gave us his IBM PC and I read the DOS and BASIC manuals cover to cover. Later my parents sent away for the Power C compiler, and I began programming in C. I frequently walked to Radio Shack to buy transistors, diodes, and other odds-and-ends to build and play with. In high school, I had a brief stint at not being a full-time nerd. I was a missionary in Brazil for two years. I graduated from Brigham Young University with a BS in Business Management.
Find me on Facebook, Twitter, LinkedIn, Stack Overflow, and GitHub.