I wasn't planning to write this today, but I want to.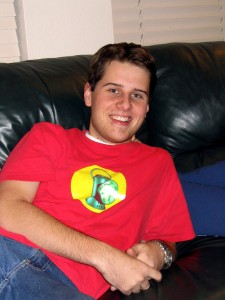 It was two years ago today that my brother David left home. We thought he had run away to start a new life or something. Then last fall, we learned he had passed away.
I feel melancholy thinking about my brother today. However, I also feel a sense of peace that I will see David again. I actually feel very assured about that.
That raises a question: Why should a rational person feel assured of something he can't see or demonstrate, such as life after death?
The five senses are considered our inputs for rational thinking. However, I've learned I can know things outside of my five, traditional senses. There are other, finer senses that give us knowledge about spiritual things. We can cultivate these finer senses and trust them. They contribute to rational thinking. For me, faith and religion help cultivate these finer senses.
Traditional thought is that religion is at odds with science; it's religion versus science. However, we can think about it differently, as religion plus science. Both are methods for learning truth.
In fact, religion may sometimes know things before science knows them, especially at a personal level. In that way, religion is sort of "indy" truth — truth before it goes mainstream. Eventually religion and science will be reconciled as separate views of one great whole.
In the meantime, religion and faith appear "supernatural" or "magic" to outsiders. Arthur C. Clarke said, "Any sufficiently advanced technology is indistinguishable from magic." The Subject of faith seems supernatural because we don't understand it fully, but I think it's more natural than we know.
As I come to understand spiritual things little by little, they seem less foreign, less "magical". What is "supernatural" now will eventually just be "natural", because our understanding will have changed. As Tim Berners-Lee said, "Everything you don't understand is magic. When you understand things, there's no more magic."
On a day like today, I'm grateful for the possibility of knowing additional truths by faith.
I really enjoyed this 5-minute clip from Professor Clayton Christensen discussing science, religion, and the pursuit of truth (starting at 2:55):
There's also a great interview with John Lewis, a scientist discussing religion and science as being like two lenses in a pair of glasses:
Update, Aug 2, 2014: Here's a recent, related quote from Elder Russell M. Nelson: "Truth is truth! It is not divisible, and any part of it cannot be set aside…. Whether truth emerges from a scientific laboratory or through revelation, all truth emanates from God. All truth is part of the gospel of Jesus Christ."