I can empathize with the Occupy Wall Street protestors, but my perception is that many of them misunderstand the cause of their pain. They naively blame capitalism; they should blame corporatism.
Corporatism is the alliance of government and business. It happens on the left (think Solyndra), and on the right (think military-industrial complex), in the Federal government (think bipartisan bailout of GM) and in local government (think Utah naming April 5, 2010 "Cafe Rio day".)
Corporatism is pro-business. Specific businesses get government subsidies, above-market-rate contracts, or special recognition.
Capitalism is pro-market. The consumer decides whether to favor GM or Ford; Cafe Rio, Costa Vida, Bajio, or Chipotle.
I loved Phil Windley's post today on how Occupy Wall Street and the Tea Party, though they seem like polar opposites, actually share a disdain of corporatism and ought to work together to fight it.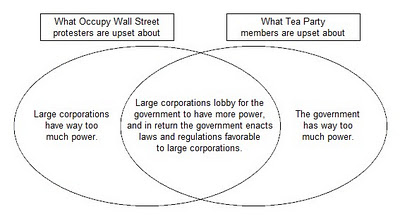 Image source: James Sinclair